What we do
We create digital experiences
Our products
At Mercedes-Benz.io we create luxurious experiences for Mercedes-Benz digital sales and services. We are driving this to respond to the needs of our customers, for whom digital touch-points are playing an increasingly important role. With our mission to ignite and build Mercedes-Benz digital solutions, we accompany our users through the entire customer journey.
Starting from the Mercedes-Benz website to our product information pages, to the vehicle configurator, and our online store. On to our Online Appointment Booking after purchasing a vehicle, Mercedes me service app or Mercedes me Assist. Our goal? To create end-to-end luxury experiences that combine online and offline into a seamless omnichannel journey for the customer.
In the Mercedes-Benz Omnichannel Commerce Unit (MB.OC), we create customer experiences for the Web and App channels. We focus on the entire customer journey by using platform solutions that enable our customers' different touchpoints across cars, products, and services around the car.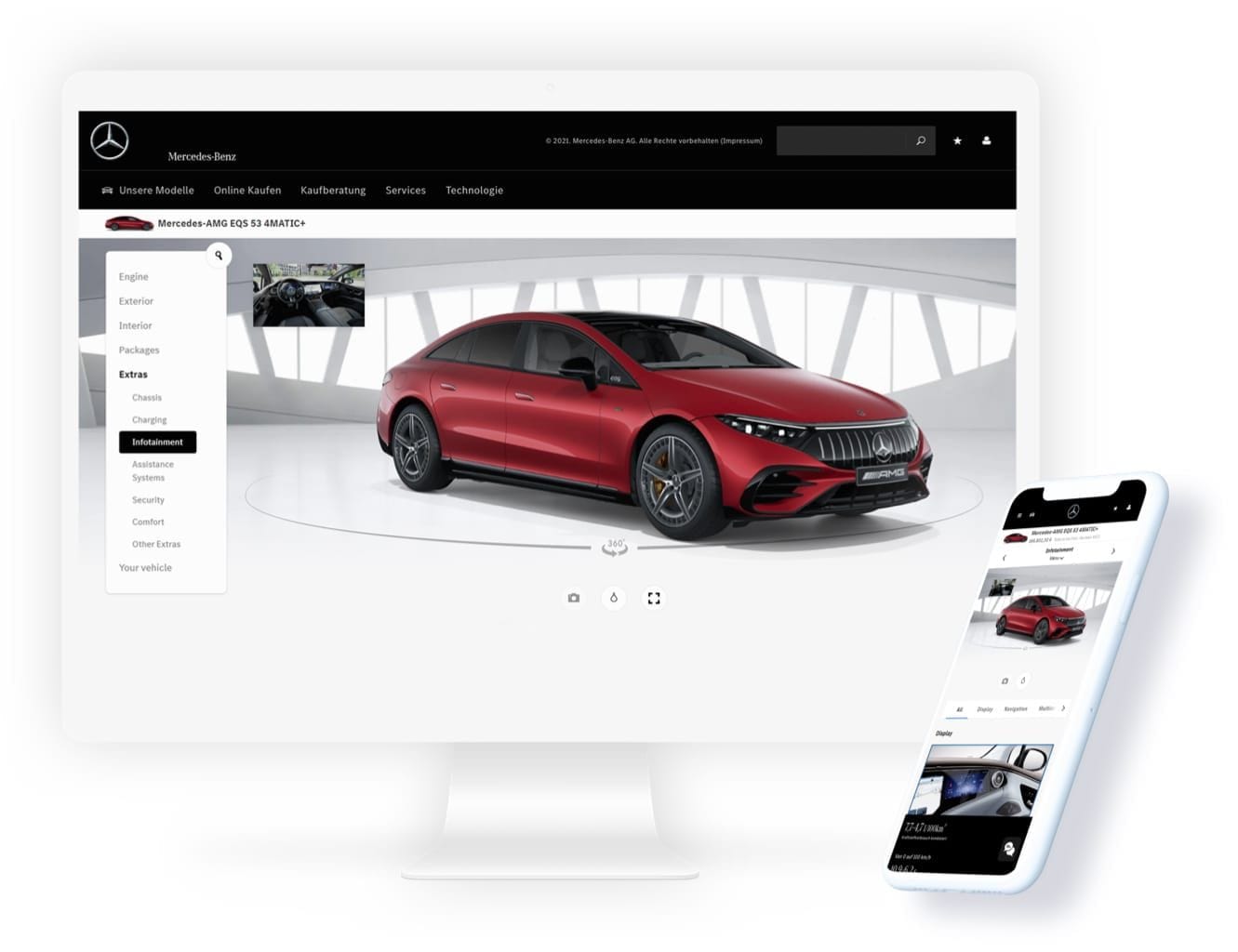 The Car Configurator
Two million users a month customize their future Mercedes-Benz in the Online Car Configurator. Our key challenge: Offering an intuitive and exclusive configuration experience for the highly complex products our vehicles are.
Product Information Pages
The Product Information page allows our potential customers to learn about each Mercedes-Benz model, engaging them right from the start of the journey. Our team takes care of a template to be used in more than 50 markets worldwide, introducing each Mercedes-Benz model.
Passenger Cars Online Store
Our global platform for selling preconfigured cars that are immediately available including fitting technical accessories (e.g tires). Convince yourself by checking out our store: German New Car Online Shop. Besides working on solutions for new cars, the team is responsible for our used car webshop.
Federated Search Services
We proudly call ourselves the search engine of Mercedes-Benz and fulfill all of our visitors' and customers' information needs. With the Federated Search Service (FSS) we offer one central, easy-to-find-and-use search facility. As a result, the service is providing a richer user experience in one central search facility.
Want to be part of the tribe?
In our Aftersales Product Unit, we create seamless customer experiences beyond expectations. In Web, App, and eCommerce we contribute to the three core business segments Service, Accident, and Parts Trading. Our products merge technology innovations and customer requirements into convenient & easy-to-use products that our customers deserve.
Online Appointment Booking
Online Appointment Booking integrates with the underlying retailer's management systems in order to provide an easy and convenient way to schedule a maintenance service for your vehicle.
Mercedes me Service app
The Mercedes me Service app aims to support Mercedes-Benz's drivers in all of its vehicle service and maintenance-related topics. The app provides data regarding the next service and inspection, enables the user to book an appointment for a preferred date and time at a selected dealership, and displays service offers by Mercedes-Benz.
Mercedes me Assist
Mercedes me Assist provides a set of applications that aim to support the owner of a Mercedes-Benz passenger car to keep the vehicle in good shape and get the most out of the several Mercedes-Benz After-sales related products and services.
B2B Connect App
Did you know that a car has on average 30 000 spare parts? Identifying the right one to change can become tricky, even for the most experienced mechanics. This is why we are currently building the future of servicing, with a product that seamlessly enables our independent dealers from identifying to ordering the right part directly from their mobile devices.
See the tools we work with